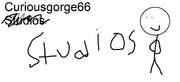 Curiousgorge66 Studios is the distributor of shows created by Curiousgorge66. It was founded in February 2014.
On March 4th, 2017, it was announced that Disney Channels Worldwide was planning to acquire Curiousgorge66 Studios for $100 million; the proposal was scrapped a day later.
In 2019, it was reported that the studio was trying to spin-off its Aura-related assets into a legally separate company, due to the studio having been reported to be heading towards bankruptcy.
History
Curiousgorge66 Studios/History
Productions
Main article: List of Curiousgorge66 Studios programs
Films
TBA.
Videogames
Comic series
TBA.